These wardrobes crafted from solid teak wood not only anchors your bedroom by giving it a rustic and the Muji vibe, but it is also heavy and sturdy enough to anchor itself without the risk of it tipping over. With splayed legs, it adds a mid-century touch to the piece.
In Singapore, furniture with a touch of mid-century element is gaining more popularity amongst the homeowners, especially for BTO homes!
Mid-modern furniture features simple and sleek lines paired with simple textures and a colourful twist for some. From TV consoles, cabinets, coffee tables, bed frames and wardrobes in Singapore, there are plenty to choose from. With a wide range of mid-modern furniture, here's a list of some beautiful mid-modern furniture in the homes of Singapore.
---
---
Mid-century furniture features more dark wood tones than the lighter wood tones. Darker wood tones also add an air of elegance to the piece. Choose a bright colour for the cushion seat of this ottoman stool in Singapore to give it a modern touch and a pop of colour in your space.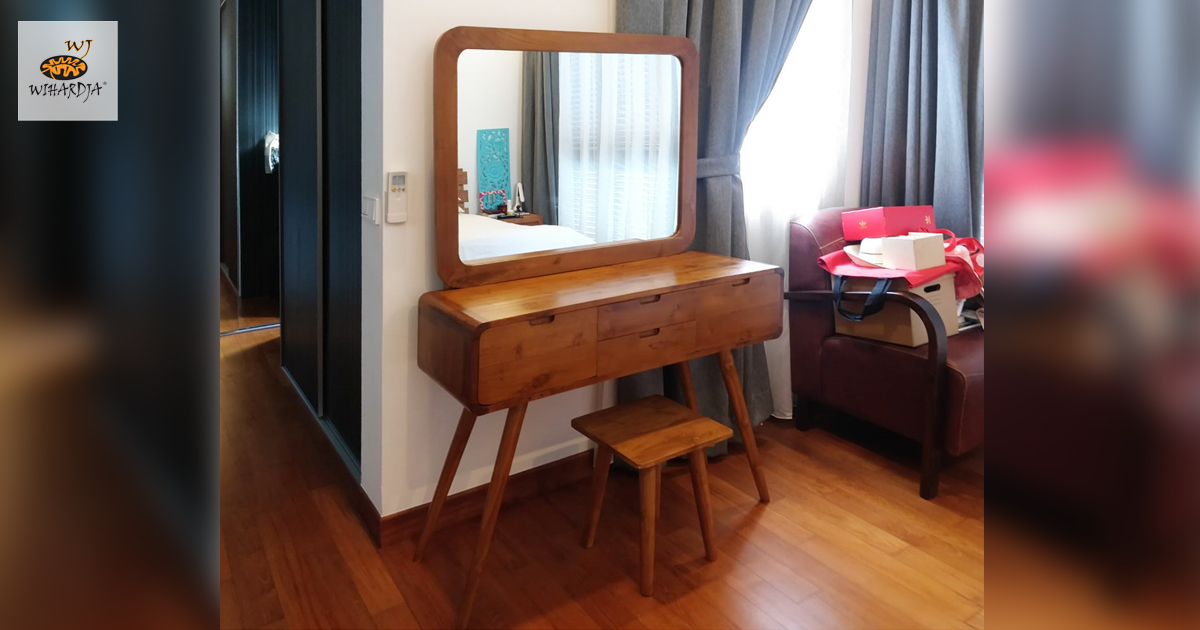 ---
---
Another key feature of mid-century furniture is its splayed legs. The rounded edges of this vanity table in Singapore adds a soft touch to the look. It is also a perfect addition to the bedroom if your space incorporates the element of Scandinavian design too. Add some vanity light to the dressing table to really give you that luxurious experience while you prepare for a fun night out!
---
---
With a sleek and clean look, black metal legs gives an industrial look to this TV console in Singapore, making it the perfect blend of mid-century with industrial style for your living room. Hide your media consoles and keep the living neat and clutter-free with its compartments and drawers!
---
---
This lounger chair makes a nice statement wherever it goes with its beautiful suar wood grains that cane be seen on the back of the chair as well as its seat. With its wide and comfortable seat, it's all homeowners' favourite addition to their space to add a modern mid-century element.
---
---
A comfortable and wide living room in Singapore is cleverly sectioned with the use of a TV console that is placed behind the sofa. To give this mid-century living room a modern twist, the homeowner has chosen bold and bright colours such as teal and yellow for the home decorations.
---
---
This ensemble of furniture came together seamlessly! The various seating arrangement all feature splayed legs, making them look like a set. With tons of various cushion colours to choose from, it can be the perfect addition to a chic and modern room or a serene and elegant one.
---
---
Another vanity table with mid-century vibe, but this time it took on a more vintage feature with its multiple small drawers and straight edges. Keep your vanity area clean and neat so that you won't have to spend time looking for that eyebrow pencil before you rushes out of the house!