Simple home decorations such as clocks can give your space a much-needed refresh! Though it is used to primarily tell time, it has become a decorative element that can help to make a unique statement in your home such as this huge industrial gear clock!
From vintage, rustic to modern contemporary rooms, you can always find a clock in a space. Clock is one of the most essential home decor items every home has. Other than telling time, clock has become a decorative element that can change the look of your space.
Ranging in various designs, shapes and sizes to suit various interior designs, they make the perfect functional piece to fill up a wall in your home. Check out these 7 unique ways wall clocks are being used for some inspiration for your home.
---
Clock Feature Wall
---
Cover an empty wall with clocks! Have a fun time curating your favourite clocks in various sizes and colours. However, select a style and keep to it such as a rustic look to keep everything looking coherent, It will definitely create a unique statement in your home.
---
Add It To The Wall Gallery
---
Get a small, simple, vintage looking wall clock to match your wall decor in Singapore. Alternatively, if you want to reduce any hammering, you can make use of a console table and place it below your wall gallery so you can place table clock and other home accessories.
---
Time Zones
---
If you love flying around or have relatives overseas, keep track of the different time zones with multiple wall clocks! It's a creative way to use wall clocks to decorate and empty wall. And you can make sure that you don't call your relatives at the wrong time – such as in the middle of the night!
---
Use it as a Centerpiece
---
Wall clocks do not have to be restricted to being hung above the console table in the entryway or in the living room. They act as a good centrepiece to anchor your dining area as well especially if you have a large blank wall. Now, this is what we call 'dinnertime'! One tip is to make sure the colour of the clock matches the colour palette of your dining table in Singapore!
---
Invisible Clock
---
While some might want the clock to stand out, you can go for a more subtle and minimalist look for your wall to blend in with the rest of your decors. This is a great option to keep your space looking clean and sophisticated.
---
Think Big
---
Oversized clocks are great if you have an empty wall to fill up. However, they do not have to be hung on the wall – they are perfect for placing on the ground as well to fill up an empty corner. Their magnitude makes them an eye-catching piece in any space.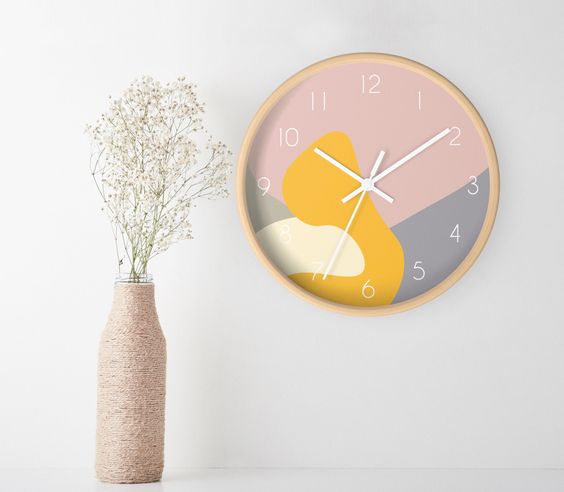 ---
Abstract Art
---
Clocks with abstract prints can add a pop of colour to your mundane and monotone space. It's perfect for homes that are modelled like an art gallery which is elegant and chic. These clocks will blend in seamlessly with the interior design being both functional and aesthetic at the same time!