5 Industrial Style Furniture For Every HDB Flats And Homes In Singapore
---
Think about an industrial-style interior, and many will immediately think of a coffeehouse, with exposed pipes, hanging lightbulbs and black metal and wooden furniture.
What makes an Industrial-themed interior so appealing is its effortless and chic look. It combines both raw and modern elements, such as teak wood and metal together to create a relaxing yet edgy ambience.
If you're looking to spruce up your existing interior style, a piece of industrial-styled furniture in Singapore would be the perfect addition to your space without changing the look of the home too much,
---
Crafted from quality wood, the Tyberius Industrial Teak TV Console has a clean and sleek silhouette. Round metal legs add an industrial feel to the overall piece, with a centre leg for additional support. This chic piece sits against a cool swamp green feature wall, making the natural teak wood finish pop.
With two drawers in the middle and two open compartments at each end, this is definitely a piece that can help to keep your living room clutter-free.
---
Using sleek black metal frames and fine quality teak wood with a minimalist approach for its design, it lends a raw and exposed industrial look to this study table. It is also equipped with a small drawer on the right to keep stationeries away. Pair it with an ergonomic office chair and a table lamp for a conducive and comfortable place for study or work.
One quick tip: While choosing your stationeries or items, go with black and raw elements, such as a gear clock, or a concrete pen holder for that industrial look!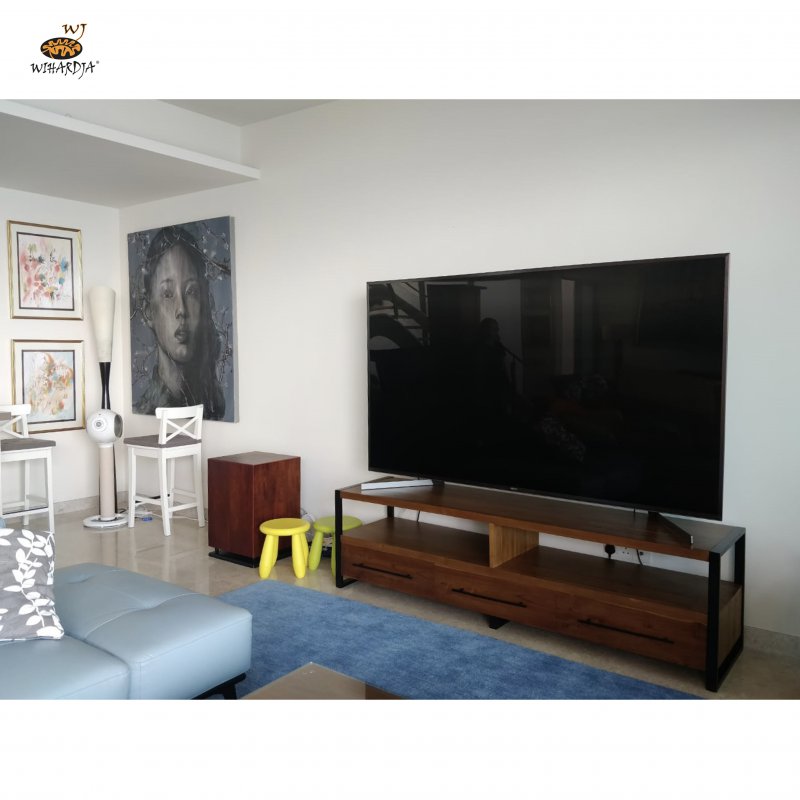 ---
Handcrafted from solid teak wood with a black steel frame, Cassidie Industrial Teak TV Console is a versatile piece that is able to fit into any interior space, not just industrial-themed homes.
This industrial-style TV console is also customizable to the width of your TV screen for a clean look. Pull the brushed black metal handle on the drawers to store accessories away and keep any media consoles on the open compartments.
---
Chesterfield sofas are known for their elegance and also having an air of royalty. While they might not scream industrial at the first glance, they're surprisingly fitting for an industrial-themed living room.
With leather as its fabric, it fits the industrial theme perfectly.
---
Every piece of Echo Suar Wood Coffee Table is a unique piece. Each coffee table displays different wood grains of the beautiful Suar wood. Following the natural tree ring, the shape of each Echo Suar Wood Coffee Table is also organic and natural.
The combination of a piece of nature with black metal pin legs gives it a perfect blend of a raw yet industrial look.
*For any suar wood furniture, each piece is definitely a one-of-its-kind as the wood grains differ from slabs to slabs! If you're interested in any Suar wood furniture, its best to go for the piece instead of a new piece so you know exactly what you're getting!