Explore These 8 Rooms Inspired By Nature For Your Home
---
Singapore is known as the Garden City, dedicating spaces for greenery with nature parks dotting across the sunny island. With greenery being a huge part of Singapore's DNA, biophilic design is popular amongst many homeowners as well.
Whether it's the use of natural materials or organic elements in the space, biophilic interior design brings the occupants closer to nature. Not only does it look instaworthy, living in such a relaxing abode has also been proven to reduce stress and create a more productive environment!
Explore and see how these homeowners create a nature-inspired room!
---
Dining Area
One of the easiest ways to create a room inspired by nature is by bringing in furniture crafted from wood. A Suar wood dining table sits at the center of the dining area, making a statement with its distinctive yellow sap that is contrasted against the brown beautiful wood grains. 
The homeowners paid a lot of attention to details too, choosing a hanging lamp that's also crafted from solid wood to tie the whole biophilic look for the dining area. Blinds are chosen in place of curtains, allowing natural light to shine into the space.
---
Bedroom
If getting teak furniture in Singapore is not a viable option, there are many other ways to add organic elements to the room.
Love the mountains? Or the beach? This homeowner has added a wallpaper of their favourite scenery in the room, allowing them to always feel close to nature. They've also chosen bedsheets matching the color palette of the wallpaper used for a complete look.
---
Cosy Corner
If you're a plant mom, you're going to love this foliage-filled corner. Transform any awkward corner at your home by filling it with your favorite plants, add a wicker relax lounge chair and a wooden side table and you'll have a cosy corner!
Remember to allow sufficient natural sunlight in to truly experience being close to nature at the comfort of your home.
---
Home Office
The Suar wood slab is integrated so well in the corner that it looks like it grew out from the wall! We also love how the drawer underneath the table is crafted from wood, giving that rustic vibe.
Tip: When choosing a piece of Suar wood slab, go for 'natural' edge instead of straight edge for an organic look.
---
Nursery
Getting the nursery room ready to welcome a new member of the family is always an exciting and fun project.
While biophilic interior designs are commonly used in cafes or spaces for adults, it can be used in nursery rooms as well. We love the tropical print bedsheets and faux vine garland hanging in the nursery room.
---
Kitchen
Using organic material such as a marble countertop for the kitchen can help to bring you closer to nature, but elegance into the space too!
While marbletops are widely used with gold or metal for a sophisticated and elegant look, for a nature-inspired room, pair marble tops with wood instead.
---
Living Room
Bright and airy, this living room is decorated with wood flooring. Hues of neutral color that reflect the color of nature are also used throughout the space. Mixing a touch of industrial elements of the room are the shelves with pipeline metal frames.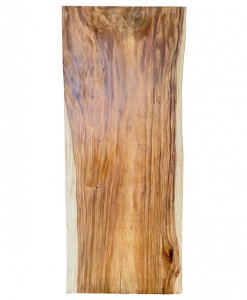 Out of stock
---
Bathroom
Wake up feeling fresh and clean with this bathroom. Placing potted plants (whether faux or real) will never fail to add a touch of nature to your home. We love how instead of using the usual teak planters, the homeowners chose a log and use it as a planter stand as an element of nature.