---
The dining room is unquestionably one of the most pivotal areas of the house.It is a communal space where families and friends gather around for a great time of bonding over food and drinks – whether it's catching up over a cup of coffee or celebrating some exciting news over a party at home. 
Being one of the more important functions of a house, it's crucial to choose the dining table fit for your home. Suar wood slabs in Singapore have recently become one of the more popular options for homes and it's not hard to see why! It can transform a dining area instantly with its rich colors and the beautiful wood grain of the heartwood. From black metal legs to stainless steel ones, each different pairing can give the Suar wood dining table a different look.  
Check out these seven other wooden dining tables in Singapore for an elegant and functional dining area!
---
#1 Organic Look
Look at those beautiful suar wood grains on the back of these dining chairs in Singapore! With a small corner, this homeowner opted for a round dining table so that the walkway is not obstructed. What's clever about this space is also the use of the mirrors that covers the wall from the floor to the ceiling! Not only does it give an illusion of a larger space, the mirrors brighten up the space too by bouncing off natural lights.
---
#2 Oriental & Classy
This teak wooden dining table and the tall slatted back of dining chairs lends a vintage touch to complete the look of the dining area that is decorated with antique china wares. The natural teak wood grains on the surface of the table also adds warmth to the space. Just give the table a gentle wipe with a damp cloth and polish the tabletop with some wood polish from time to time to maintain the natural lustre of the wood! 
---
#3 Small but sophisticated
When choosing the perfect dining table, it's also important to take into account the space you have. While Suar wood dining slabs are usually seen in bigger dining spaces, it'll look equally good in small dining areas. One tip most interior designers have when it comes to small dining areas is to go for dining benches if possible! Dining benches are easy to stow away under the dining table when not in use, increasing the floor space. It also visually declutters the space.
---
#4 Elevate The Look With Intricate Patterns
Having a beautiful carpet with intricate patterns immediately elevates the look of the space, lending a luxurious touch to it. Place a lamp with warm lights or even a chandelier over your dining table to give your dining area a more intimate setting with its warm and soft glow.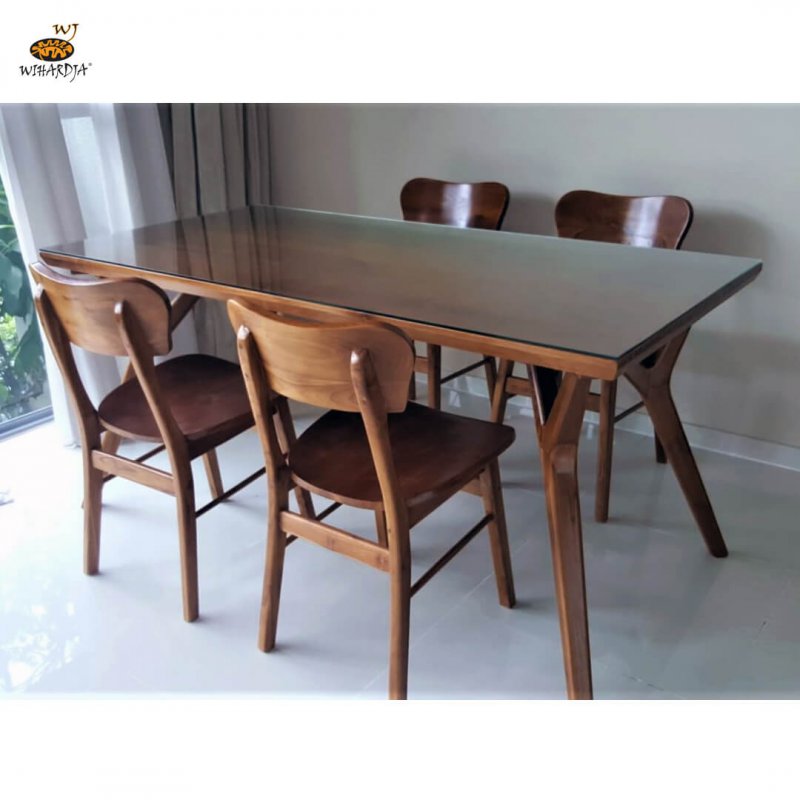 ---
#5 Top It With Glass
One of the concerns of having a wooden dining table is the care needed to prevent any water stains or scratches. Add a glass top over the surface and you can have the best of both worlds – preventing any water stains on the wood left behind by cups of drinks while showcasing the natural wood grains of the teak.
---
#6 Fit Your Style With Different Table Legs
Not only can a Suar wood dining table paired with stainless steel metal legs give a posh and luxurious look. This Suar wood dining table with wooden U-shaped legs is equally stunning as well! This wooden dining table completes the theme of the house that's decorated with white and wooden accent, creating an inviting and warm ambience.
---
#7 Bring Sophistication Outdoors
Dining tables do not have to be confined to dining areas only. They can be placed in your yard or balcony as well! Have a tea appreciation session while enjoying the gentle breeze and the greenery outdoors.