---
With the ever-rising cost of COE (cat E closing almost at $100k) and other costs and expenses, owning a car in Singapore is seen as a luxury. Thankfully, Singapore is still pretty accessible everywhere with public transport.
But on days when we're running late or avoiding the crazy weather in Singapore, it's easy to burn a hole in our pockets paying for services such as Grab or taxis. Renting a car from car-sharing services in Singapore is a more financially savvy option as you can take more trips without racking up a huge bill. Plus, you get to 'own' a car without incurring the total cost of car ownership in Singapore!
If you're looking to try out a car sharing services, here's some car rental services with affordable rates in Singapore.
---
Image credit: GetGo
Renting a car in Singapore has never been easier with GetGo. Simply register with SingPass and you can start renting a car with no deposit or membership fees. The hassle of buying car insurance and pumping petrol are also taken care of! All you have to pay are for the hours and the mileage used.
With over 1,000 locations islandwide, find the nearest location to your endpoint and simply return the car! Simple, flexible, and accessible, it's easy to see why GetGo is the upcoming car-sharing service in Singapore.
Rates: From $3/hour [Off-Peak]
---
Need to rent a car just near your block? Drive Lah offers that convenience! A pretty new concept in Singapore, Drive Lah is a platform that allows you to rent a car (or rent out your car) from drivers nearby!
With 30-40% lower rates than the market car-sharing rates, it's a more affordable option on this list. Every car also comes with comprehensive insurance so you c an drive with a peace of mind.
Rates: From $24/day
---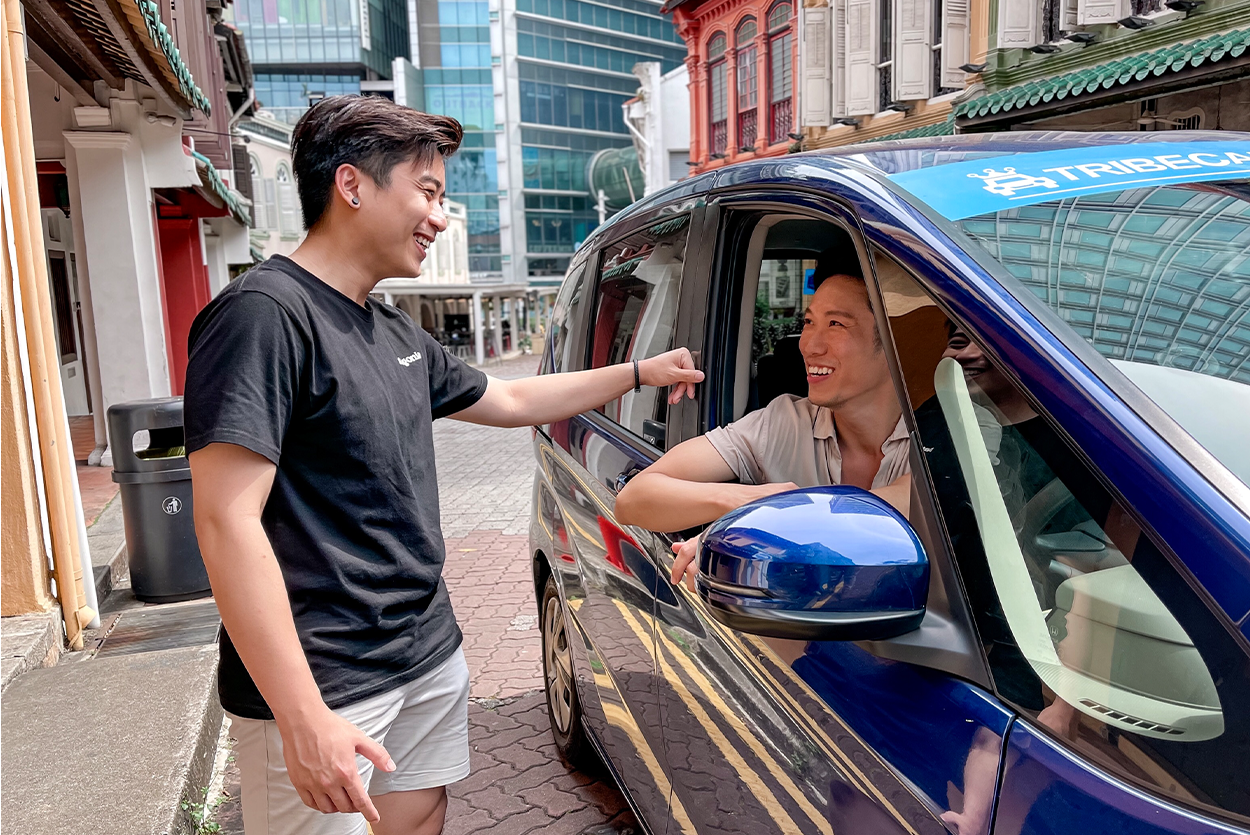 With the border between Singapore and Malaysia now open, plan a road trip to Malaysia with Tribecar! Rent a car and pick it up conveniently near walking distance from MRT stations.
Equipped with private hire insurance and complied with LTA regulations, drivers can rent cars from Tribecar for lesiure and commercial driving as well! You can easily rent a car and use it as a private hire as and when you're free.
Rates: From $0.54/hour [Super Off-Peak]
---
Offering car rental for as short as 15 minutes, enjoy the perks of renting a car for short distances in Singapore – grabbing that lunch that you've been craving for which is just a little too far to travel for or run quick errands.
By topping up a small fee of $26.57/day, you can drive the car into Malaysia for a much-awaited trip without the hassle of taking public transport in!
Rates: From $0.60/15mins
---
Image credit: BlueSG
The only car sharing company in Singapore currently that offers Electric Vehicles (EV), the cars offered all run only on electricity. If you're environmentally conscious, BlueSG is the answer! You can enjoy the joy of driving a car while still doing your part for the environment,

With more than 500 BlueSG locations, you can simply reserve anyone near you and use an Ez-link card (or BlueSG card) to start your trip! Plus, you don't have to worry about parking fees or gas!
Rates: From $0.36/min [Basic membership]
---
Have a driving license and some time on hand?  Earn some extra cash by renting a car with WhizzCar,  an exclusive Grab partner under the WhizzGrab programme. Simply fulfil a minimum of 2 Grab trips per reservation and you're good to go! 
As part of their ongoing promotion, those with DBS or POSB cards can enjoy a 50% discount on the registration fee with up to $200 free driving credits for new members! 
Rates: From $ 10.86/hour [Super Economy – Extra Value Plan]
With such affordable rates, start making plans with family and friends for a short trip in Singapore or even to Malaysia!