When we think of industrial design for HDB interiors in Singapore, we would often associate it with a dark and edgy look with design elements such as exposed concrete walls, 'exposed' wiring with dark color palette. With its neutral and muted color tones such as black and greys, industrial-styled furniture with black metal legs or frame can be easily incorporated into many existing home interiors to give a whole new look!
Here are some HDB homes in Singapore that proves how well industrial-themed furniture in Singapore can blend into their existing space to elevate the look and feel of their homes.
Get inspired by the interiors of these 5 homes!
---
1. Dark Eclectic Abode
This homeowner extends the living room into the balcony area by removing the glass panels. Bold colors such as green and blue for the walls of the two areas respectively, sectioning the two areas for different functions creating a beautiful contrast as an end result.
For their TV, they chose to mount it on the wall, pairing it with a teak wood industrial TV console that stands on black metal legs to hide wires and media consoles away for a clutter-free space.
---
2. Posh and Edgy
Going for an elegant and edgy vibe, this homeowner chose black as the primary color for the living room. Dark pieces of furniture were all hand-picked by the homeowner who obviously has a keen eye for details from the items in the living room. The black chesterfield sofa exudes an air of elegance while its metal legs adds an edgy and industrial look.
Fur rug and the coffee table crafted from black glass are added to further add a touch of luxuriousness to the space.
---
3. Rustic Industrial
From wooden flooring to wood furniture pieces, it brings warmth and adds cosyness to the space. Suar wood slab was chosen for its beautiful and unique wood grains, making a statement regardless of where it is being placed in.
Black metal legs paired with the wooden table top gives it a touch of industrial-style, matching well with the high-back black dining bench.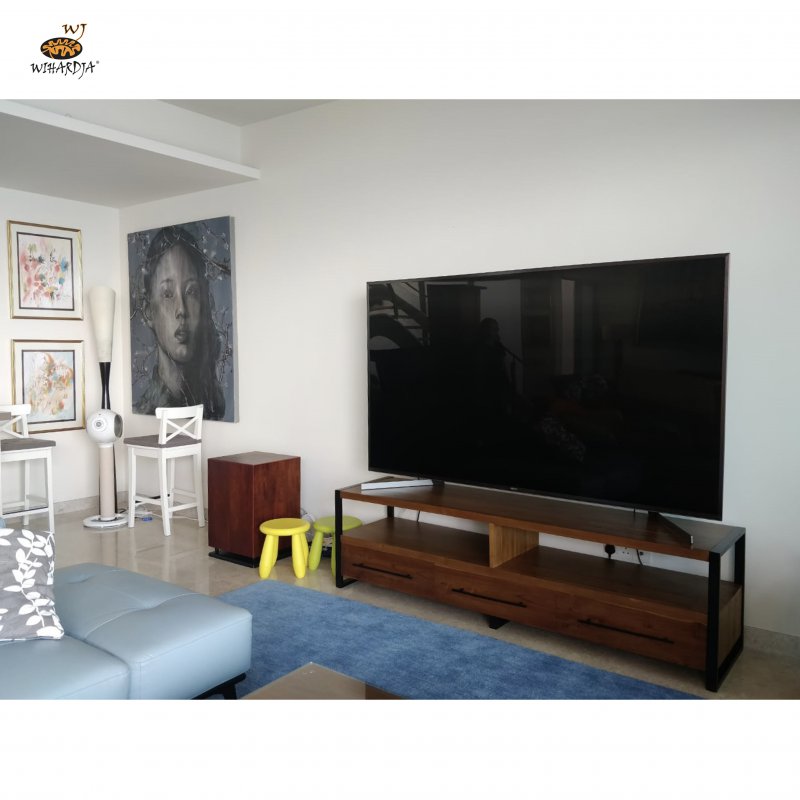 ---
4. Modern Contemporary
Industrial furniture pieces can blend easily into modern contemporary spaces too. This living room uses white and blue color palette as its main theme for a spacious and serene look. To add a chic vibe to the living room, the homeowner has curated different paintings to create a wall gallery at the corner of the room.
The teak wood tv console also echoes the same style, adding a some edginess with its industrial style.
---
5. Funky Pop Industrial
With exposed concrete walls contrasted against the brick red walls, this HDB home interior in Singapore creates an eclectic look. Furnished with the old-school metal black metal fan, metal tv console and industrial drum stool, it completes the industrial look.
The upcycled oil barrel rocking chair adds a funky and retro touch, adding a pop of fun and color to the space.