---
Rattan is used widely as both outdoor furniture in Singapore as well as indoor such as rattan dining chairs. As you shop around for a piece of suitable rattan furniture for your home, you might have seen some furniture shops in Singapore labelling rattan furniture as wicker furntiure.
It might seem confusing, but wicker and rattan furniture can be used interchangeably! Continue reading below to find out more!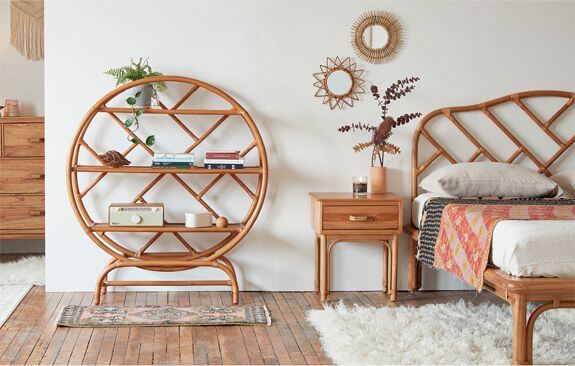 Source: Pinterest
As its name suggests, rattan furniture are made with rattan. Rattan is one of the strongest wood and can grow up to a hundred feet. It has a strong core unlike bamboo, giving it its durability. Rattan is also lightweight, which makes it a popular choice of furniture amongst homeowners for its intricate design and how easy it is for homeowners to shift the furniture around for a fresh new layout to the space.
As with all types of wood, rattan is also prone to fading under sunlight due to the exposure of the UV rays. This can create a natural rustic look for outdoor furniture made with rattan. A quick tip is to make sure that you rotate the furniture periodically if it's left outdoor so that the fading is even on all sides of the furniture.
Rattan is also used widely as indoor furniture! They are pretty popular as shoe cabinets in Singapore as it allows ventilation to keep your shoe cabinet smelling fresh and clean especially in our warm and humid climate! Placing bags of charcoals also help to absorb excess moisture from the shoes and prevent mildew or moulds!
Source: Pinterest
---
Wicker Furniture
Unlike rattan furniture, wicker is not a material, but a type of weaving technique. The material used can range from willow, rattan, straw, synthetic materials and more. Thus, a piece of wicker furniture does not depend on the material used, but the technique. Do pay attention to its material especially if you're purchasing chairs as you want to make sure the seat is durable for daily usage.
.
---
How To Clean Rattan Furniture
As furniture makers incorporate weaving technique into the construction of rattan furniture, this creates nooks and crannies which makes it easy to collect dust and dirt. Vacuum your rattan furniture or brush it with an upholstery brush every week. This helps to prevent any dust build-up that might be too hard to clean later on. 
Tip: Use a soft-bristled toothbrush to help you really get into those corners!
For a more thorough cleaning, it should be done once every month to remove away any stains that might be left on the furniture. 
What you'll need: 
Microfiber cloth (or any soft cloth)

Warm water 

Dishwashing liquid 
Mix warm water with some dishwashing liquid. Damp the soft cloth with this mixture give your furniture a good wipe. Remember to wring the cloth to slightly damp to avoid any water pooling on the surface of the furniture.