---
Hainanese Chicken Rice
As its name suggested, Hainanese Chicken Rice is inspired by a dish in Hainan, called Wenchang Chicken Dish which the immigrants from Haina brought with them when they came to Singapore.
Did you know? The dish was later influenced by the cooking style of Cantonese, where they used younger chickens instead of the original older ones for a more tender texture. Other than the use of younger chickens for the dish, what sets this dish apart from the Wenchang Chicken Dish is also the chili sauce!
Mr Wong Yi Guan started selling Hainanese Chicken Rice in the 1940s walking around with just two baskets containing all the ingredients necessary for the dish. He later set up his own stall and took in an apprentice, Mok Fu Swee who went to set up a restaurant called 'Swee Kee' Chicken Rice Restuarant in 1949, popularizing Hainanese Chicken Rice in Singapore.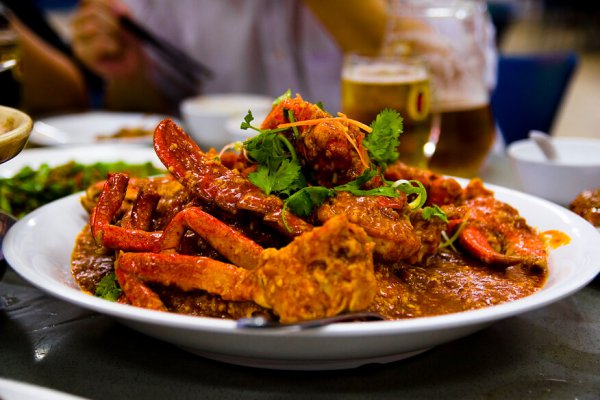 Chili Crab
This famous dish was invented by Mdm Cher Yam Tian back in the 1950s. This dish first made its appearance around the Kallang River, where their food stall was located.
Mdm Cher Yam Tian and her husband would steam the prawns and crabs they picked from the sea for dinner. In her attempt to change things up for dinner, Mdm Cher Yam Tian added tomato sauce and chili to the steamed crabs. Not only her husband fell in love with this dish, her neighbours as well!
Did you know? It was the neighbours who encouraged the pair to set up a stall! And that's how the dish was introduced to other locals, and news of this new dish quickly spread around. We really have to thank the neighbours of Mdm Cher for encouraging her to set up a stall, or else we would have lost a national dish!
Gaining a huge crowd with their Chili Crab dish, their small food stall was no longer enough to accommodate so many consumers. They moved to the Upper East Coast Road later on to expand their business, known as the Palm Beach Restaurant. Unfortunately, Palm Beach Restaurant was sold. But if you still want a taste of the original recipe, it is still available at Roland Restaurant, which is opened by Mdm Cher's son!