---
Coming home after a tiring day whether at school or work to a table full of homecooked food is the best feeling ever! The dining area certainly served more than just adding aesthetic to the space. It's a communal area where families gather together to eat and have conversations over meals.
Wooden dining table is a classic choice amongst homeowners for its beautiful and unique wood grains, adding warmth and cosiness to the dining area. Though wood furniture is susceptible to dents and scratches, they are relatively easy to maintain with the right tips.
But for new homeowners, how to clean a hardwood dining table can be a cause of concern when considering to purchase a wooden dining table for their new BTO or HDB especially if there are kids or pets at home. Need some inspiration for your home? Head to this article!
If you are looking to purchase a wooden dining table in Singapore, continue reading to find out what are some rules and tips to protecting and maintaining it!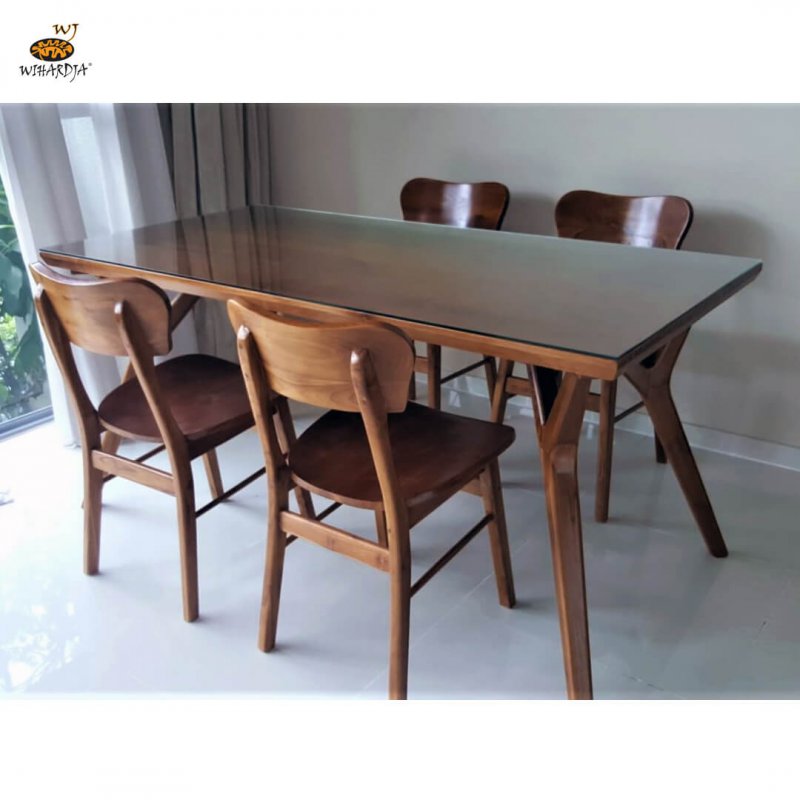 ---
#1. Add A Glass Top
For customers who would love to have a wooden dining table without worrying about accidental wood damages – such as scratching the wood or causing a dent with a house key or toys, add a glass top on the dining table.
At Wihardja, we offer glass tops so that you can have the best of both worlds – enjoying the natural beauty of a wooden dining table without worrying about the potential scratches!
---
#2. Place A Table Runner
If you are planning to place a vase or fruit bowl at the center of the table, pick out a table runner that would complement your wooden dining table. Placing any home accessories on the table runner instead of placing it directly on the table prevents any scratches when the home accessories are moved.
If table runner does not fit the aesthetic of the dining area, you can attach felt pads to the bottom of the items that sit atop a table.
---
#3. Use Dining Mat
If you think that dining mats are purely for aesthetic purposes, think again! While it is common to see dining mats being used especially for high-end restaurants, most homes in Singapore skip dining mats. Dining mats are useful not only for cleaning up, but it also prevents scratches and wood rings appearing on your wooden dining table!
Having dining mat clearly marks out the dining area of each guest, and most guest would subconsciously place their cold beverages or utensils within the dining mat.
---
#4. Mind The Heat!
Make sure you have dish coasters on hand as well! While you may have a table runner or a dining mat, those might not be good enough to protect your wooden furniture from hot dishes that are served directly on a pan fresh out of the oven.
Other than the dishes, the location of the dining table is also important. If it is placed near the windows where sunlight can shine directly on the table, make sure to shift the table away as UV rays may cause fading or cracks. If there's no other better location, consider installing black-out curtains on the windows to keep the sunlight out.
---
#5. Clean with wood furniture polish
Using the proper agent for cleaning is important! Always make sure to check what furniture polish is suitable with the furniture store in Singapore which you are purchasing your wooden furniture from. This can maintain the wood's beautiful shine!
However, remember to clean on a weekly basis! If you think that cleaning once in a while or when the table looks dirty and dull is fine, it will be too late!
Protect the surface of any wooden home furniture you have with these simple tips!