---
Beautifully intricate tiles and colourful motifs are probably what popped into our minds when we think about Peranakan style. Okay, and probably Ang Ku Kueh and other sweet and savoury kuehs too if you're a fan of Peranakan treats!
It can be hard to incorporate Peranakan style into your living space without looking like it's too overbearing. Check out these 5 amazing Peranakan-inspired homes for some amazing ideas!
---
#1. Queensway Tower
From the walls to the floors, every section of this house uses different motifs, giving you a visual treat when you enter into the different section of this house. However, continuity runs throughout the house with the use of greens, blues and browns hues.
Despite being heavily infused with Peranakan elements – the embossed glass panels, vintage hanging pendant lamps and the green wall tiles, the bright yellow hues and clean lines bring a modern twist to the space.
Website: linearspaceconcepts.com
Location:100 Pasir Panjang Road #03-09, Singapore 118518
Hotline: +65 6462 3360
---
#2. Bedok North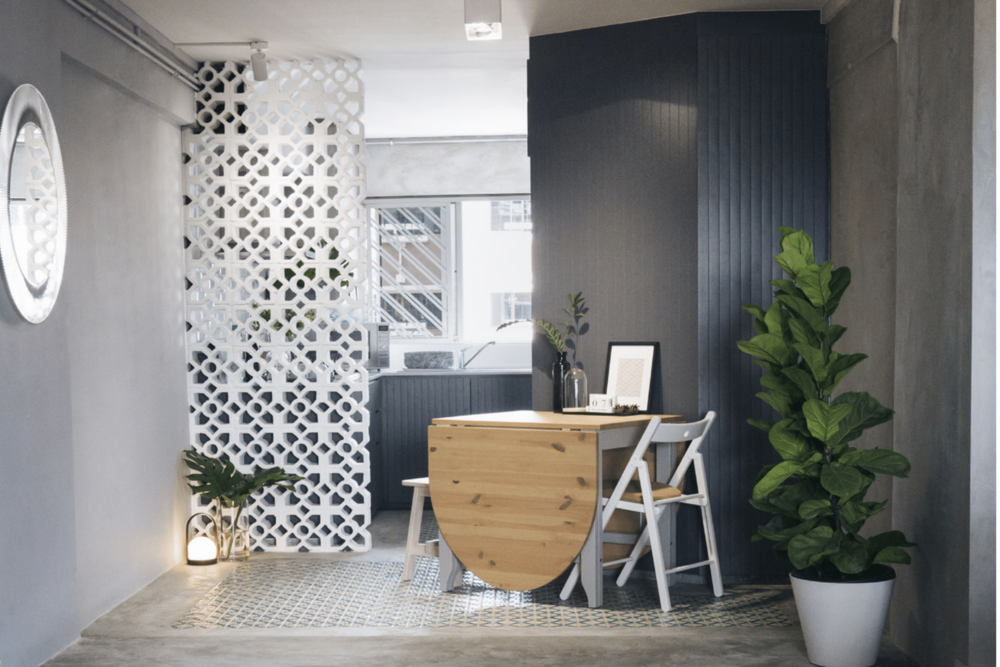 Peranakan designs are usually known for its loud colors and motifs. However, they can fit into a simple and elegant them as well! This resale 3-room HDB flat at Bedok North does exactly that – blending the key elements of Peranakan while keeping the entire space looking simple and modern.
Instead of using Peranakan tiles to create a wall feature that catches attention when one is in the space, the all-white wall divider that sections the living room from the kitchen features Peranakan motifs is an ingenious way to incorporate Peranakan elements into the space without being too loud.
Website: satobent.com

---
#3. Telok Blangah
Vintage items such as the oil lantern used in the past can be seen throughout the decorations of this BTO at Telok Blangah. Being Peranakans themsevles, the homeowners wanted to infuse some old school elements to be coupled with their Peranakan decors.
Peranakan decors itself are full of colors. To make these decors pop, the homeowners decided to go with white and black with evergreen feet for their color theme.
There is also a slight mix of industrial elements for an edgy twist. In the living room, cement screed floor are used instead of normal floor tiles. The black beams and track spot lights also gave a more chic feel to the space.
Website: m3studio.sg
Location: 2 Kallang Ave #09-04
Hotline: +65 6443 7001
---
#4. Joo Chiat
Floor tiles with floral motifs add an interesting vintage twist to the kitchen. The kitchen island is paired with some wooden high bar stools for a rustic vibe, bringing warmth to the elegant space. Throughout the house, retro-styled furniture such as the white wooden console table with intricate details is used to add a touch of sophistication to the space.
Other traditional elements can be seen in the home decorations used to accessorize the house, such as the glass jars with vintage motifs!
Website: aiden-t.com
Location: 67 Ubi Road 1, #09-11 Oxley Bizhub (Lobby 1), Singapore 408730
Hotline: +65 6408 9691