---
Suar wood are also known as Monkey Pod or Rain Tree. It is one of the most durable and sturdy tropical hardwood, native to South America which makes it ideal for furniture making.
Much like our fingerprints which are unique to each individual, each Suar wood slabs' wood grains are unique too. No two wood slabs are identical, making them truly one-of-a-kind pieces to own.
Suar wood tables come in two forms – live edge and straight edge. Live edge follows the natural curvature of the wood whereas for a straight edge wood slab, much like how the name implies, the edges are trimmed so that they're straight. While the live edge truly brings out the element of nature, it might not be practical for some.
For example, if you're looking for a Suar wood desk, a straight edge is a more practical design so that the table can be pushed to the wall fully. Live edge on the other hand, would be a beautiful statement piece for a dining area.
These beautiful wooden slabs don't have to cost a bomb! We believe in making Suar wood affordable so everyone can enjoy the beauty of a Suar wood table!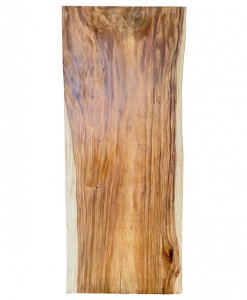 Out of stock
How we make our furniture affordable:
01. No middleman
We are both the exporter and the manufacturer. We source for wood responsibly and only select the best ones for all your home furniture such as dining table, bedframes, study desks, cabinets and many more to produce high-quality wood furniture. As we do not get our furniture from suppliers but from our own factory, our prices are kept low as there are no middleman costs. Another benefit of getting our furniture directly from the factory is that Wihardja can offer customization at a low price too! With a design and some basic dimensions in mind, give us a call via our hotline or give us a visit to get a quotation on customizing your home furniture!
02. Save On Delivery Fees
At Wihardja, we offer self-collection as we believe that our customers should not be paying for unnecessary fees if they don't have to! Customers are free to cash and carry or arrange for their own transport to have their items delivered. Alternatively, should they require any transport services, Wihardja can help customers to arrange for delivery by engaging an external transport company.
03. No Unnecessary Overhead
Another way we save costs is by cutting down any unnecessary overhead, for example, operating within a shopping mall. Operating within a shopping mall means paying a higher rental fee and this cost would be passed onto our customers as the prices of the products will have to be priced higher to cover the rental fees!
At Wihardja, we have a wide variety of Suar wood slabs and they are available for viewing at the Sungei Kadut showroom. If you spot any pieces you like online, do give us a call to check if the piece is still available for viewing before making their way down as the turnover rate is high.